Setting up Tealium
3
min
quiz

Are you a Tealium client? Tealium is a data management platform that enables you to collect user data and to use it on other platforms. With this integration, you can create targeting conditions for your Kameleoon experiments, using Tealium Audiences and Badges.
Activate Tealium on Kameleoon
Log in to your personal space, click on "Configuration" and then "Integrations" in the sidebar.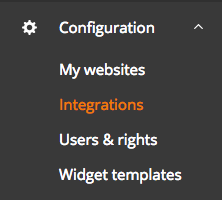 For more information on this page, see our dedicated article.
Click on the "+" next to Tealium to configure it and add it to your integrations.
Once the menu unfolds, click on the "Activate tool" button.
Select from the list on the left the website(s) for which you want to configure Tealium, and indicate you Tealium account name and profile name.
Finally, click on the "Validate" button to add Tealium to your reporting tools.

You will then be able to find your Tealium targeting conditions in Kameleoon.
Find and use a Tealium segment in Kameleoon
In the Kameleoon segment builder pop-in, click on "External tools" and select Tealium AudienceStream.
You can choose between Badge and Audience. Click or drag to add the targeting condition to your Kameleoon segment.
Finalize the creation of your new segment and click on "Create".
You can use this segment in your Kameleoon experiments.
Use Tealium in a Kameleoon custom data
It is possible to associate Tealium with the creation of new personalization data on Kameleoon.
In the pop-in for creating a custom data, select Tealium as the acquisition method so you can read the data from the datalayer (utag_data).
Then finalize the configuration of the custom data by filling in the required information. You will be able to associate this custom data with the segmentation of an experiment.