Fueled by consumer privacy laws like the GDPR, most marketers are turning to solutions like TrustCommander that alert website and mobile app users of the personal data that's being captured, stored, and shared with third parties.
This guide walks you through how to set up an integration with Commanders Act CMP.
Please note that Kameleoon is also IAB TCF compliant
Key benefits
Increase brand loyalty by allowing users to control the data collected about them
Establish trust through transparency and maintain trust through user consent
Evaluate trust with dashboards and reports
Remain compliant throughout evolution of user privacy laws
Custom integration with TrustCommander
You need to add the Kameleoon Consent with TRUST tag in your container.
Please follow the steps detailed by Commanders Act to add a new tag
Commanders Act provides two Kameleoon Consent tags. You need to use the "Kameleoon – Consent with TRUST" tag if TRUST is enabled in your account, otherwise you can use the generic tag "Kameleoon – Consent" if you are using a different consent management tool.
Note: You can add it from the "SELECT" or "EDIT" step of Commanders Act interface.

You can manage 2 categories depending on your usage of Kameleoon:
TRUST_AB_TESTING_CATEGORY: this will manage the consent for our A/B testing platform, used to improve the user experience for all visitors;
TRUST_PERSONALIZATION_CATEGORY: this will manage the consent for our Personalization platform used to offer personalized experiences to make your visit more relevant.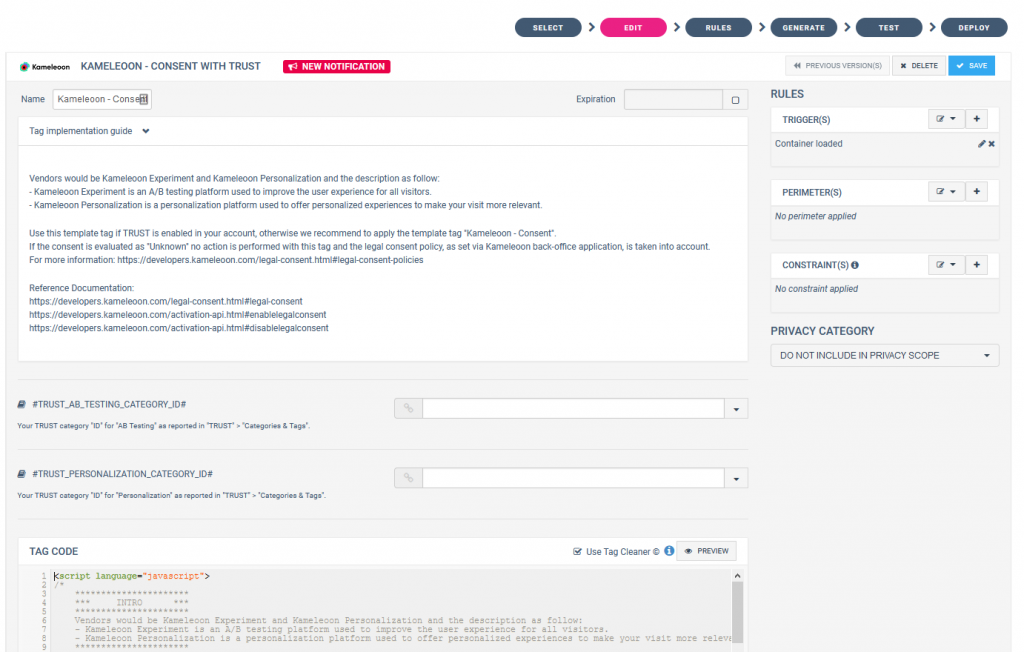 Kameleoon – Consent With TRUST tag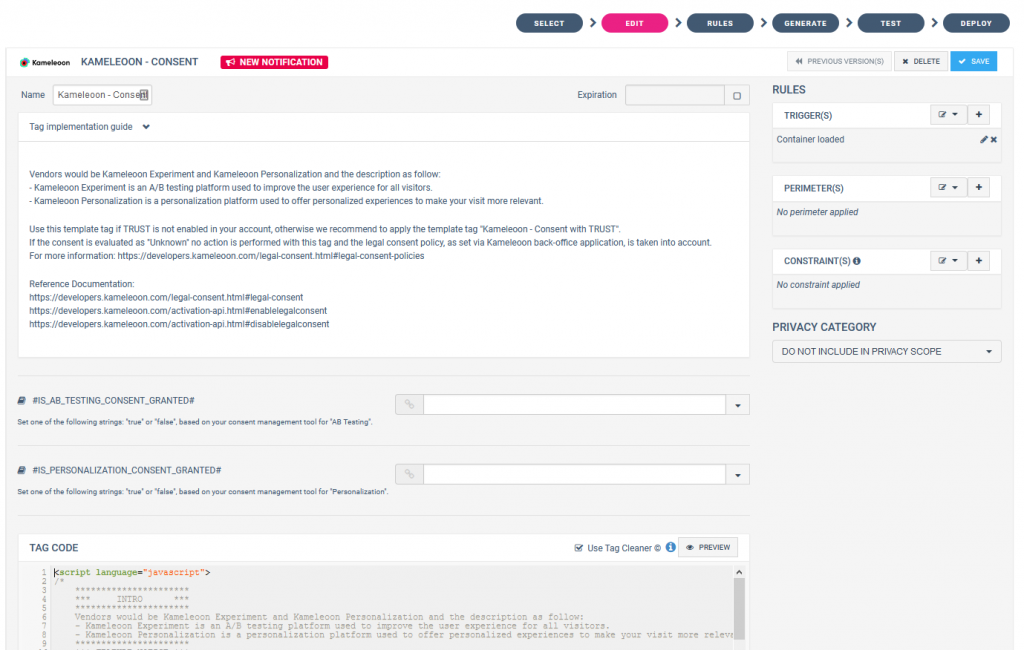 Kameleoon – Consent (generic) tag
Last step is to indicate the category ID on which Kameleoon has been added in your consent banner or popin. You can read more here.