Access the Widgets Dashboard
To access the Widgets Dashboard from the App, use the left side menu > "Configure" > "Widgets".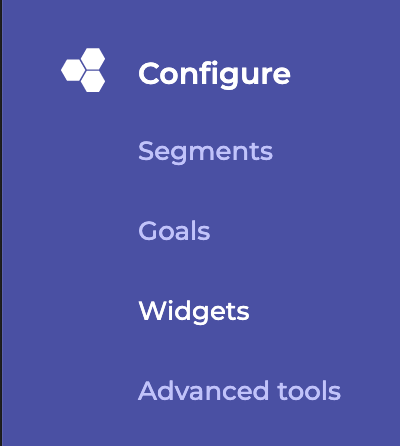 Structure of the Widgets Dashboard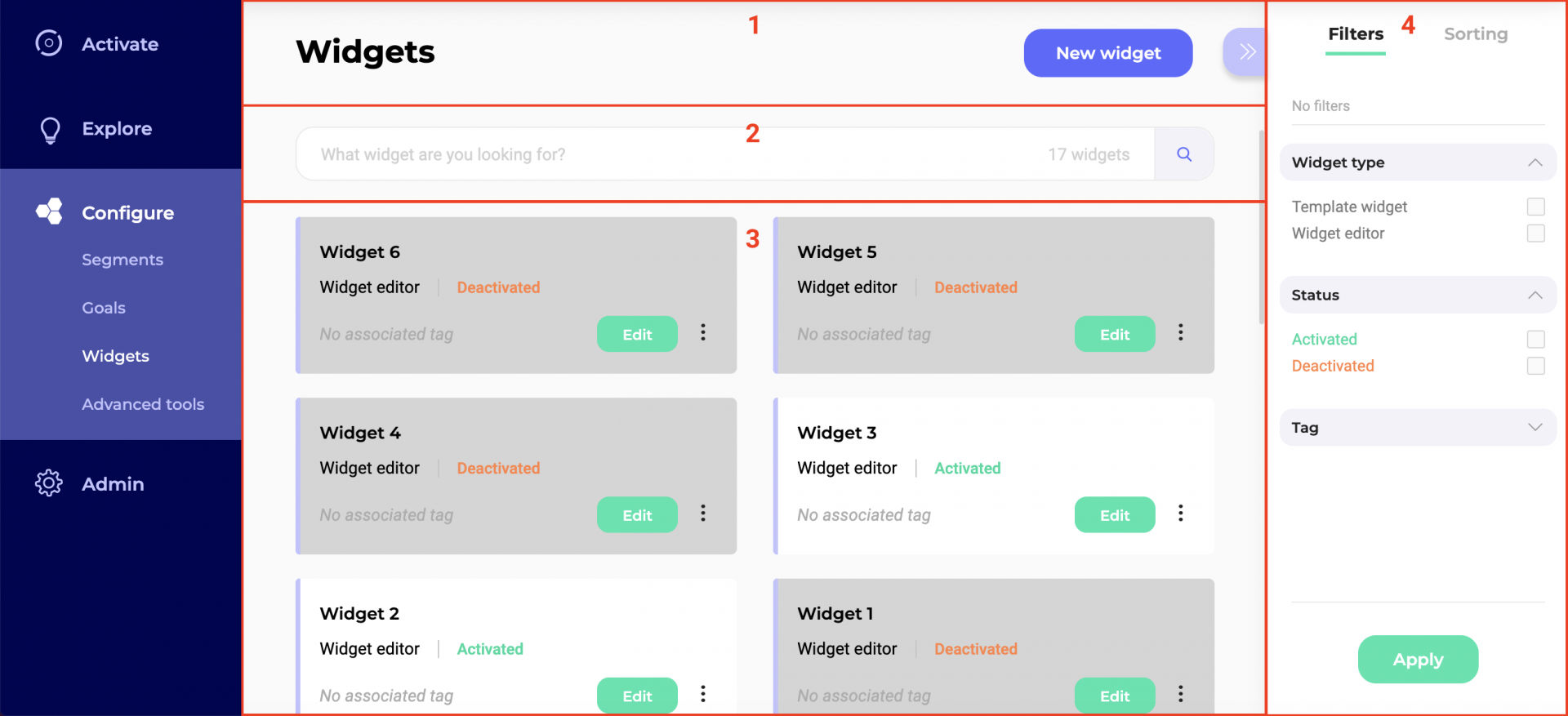 Header: button to create a new widget
Search bar: search tool; number of created widgets
Cards: information on the widgets; status; Edit button; three-dot menu (on the right) to apply actions to a widget
Sidebar: filters; sorting tools; secondary actions linked to the three-dot menu
Widget information
Each widget is represented by a card that indicates the main information.
Want to know more about a widget? Mouse over the tooltip displayed to the right of the widget name and you'll have access to a plethora of detailed information without needing to open our widget editor.
Find a widget
If you have created a large number of widgets, a search bar, a filtering tool and a sorting tool allow you to easily find a particular widget.
Filter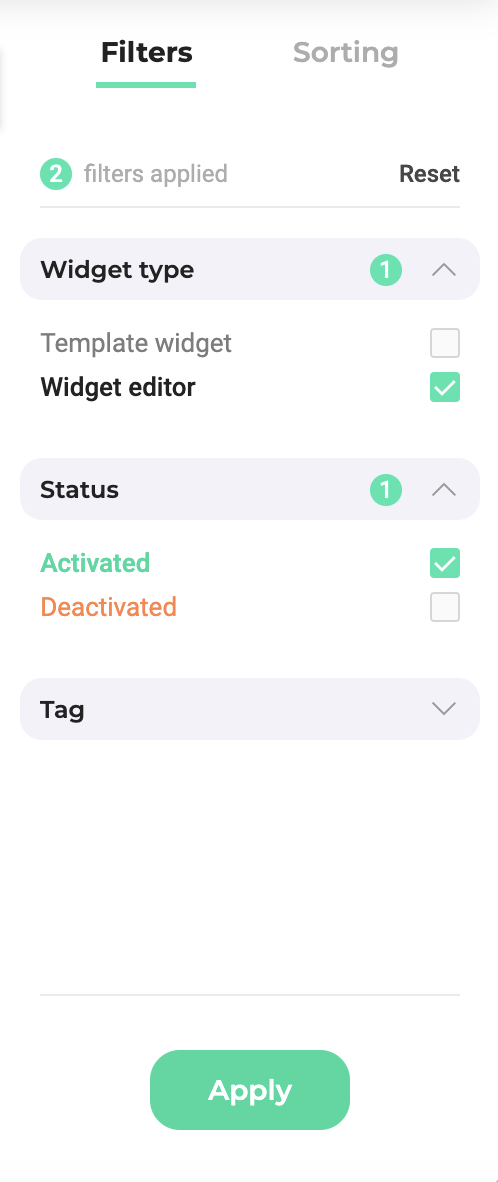 You can filter your widgets according to several criteria:
Widget type
Status
Tag
Select one or several filter(s) and click on "Apply".
Sort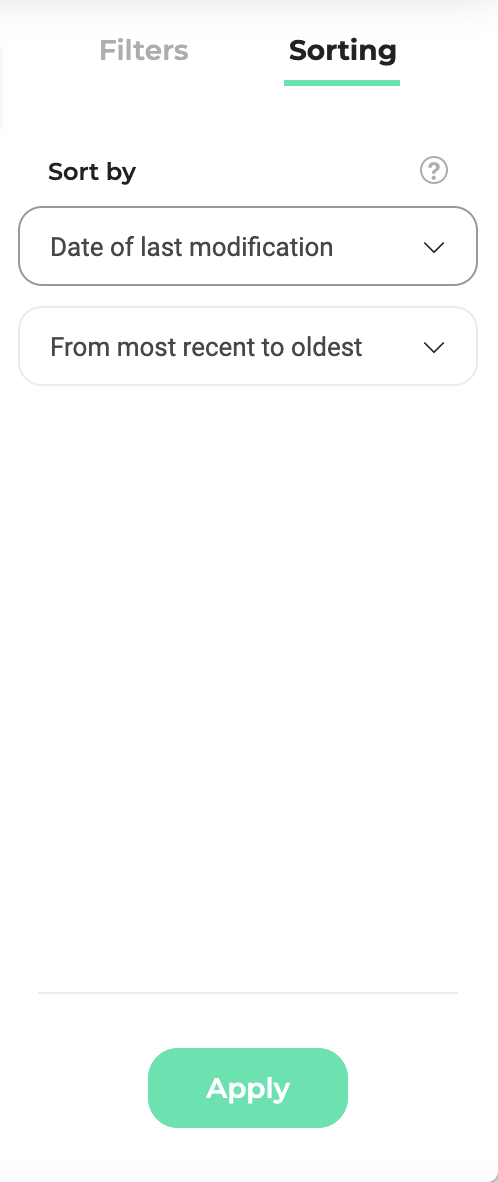 The sorting option allows you to sort your widgets according to their date of last modification or from most recent to oldest.
Select one type of sorting and click on "Apply".
Edit a widget
You can edit your widget by clicking on the green "Edit" button.

Depending on the type of your widget, you will be redirected to the interface in which it was created.
Actions on a widget
Click on the 3 dots located to the right of each card to access a wide range of actions. The available actions depend on the status of your widget (activated/deactivated).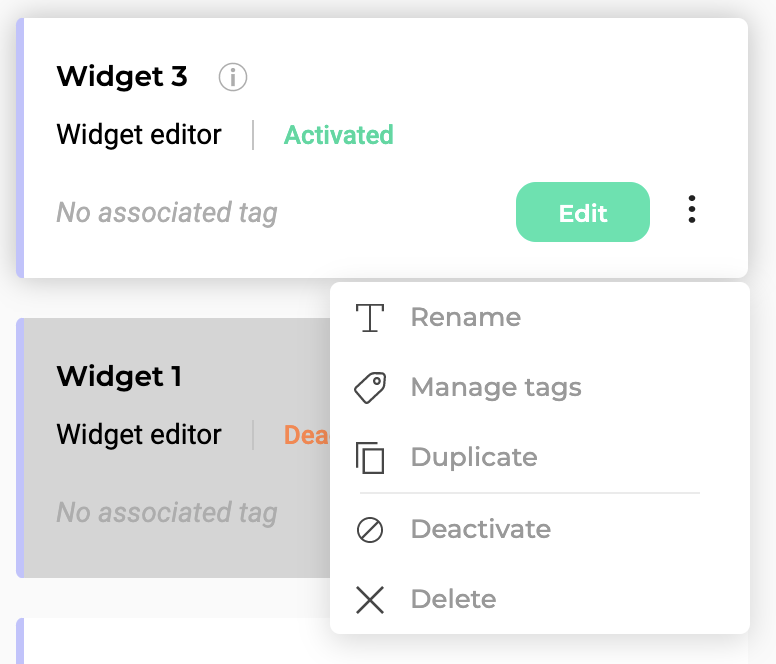 When your changes are complete, click on "Validate" to save them.
Rename
You can rename an existing widget.
The "Rename" sidebar opens. To validate the renaming of the widget, click on the "Save" button.
You can manage the tags associated to a widget.
The "Manage tags" sidebar opens. Tags associated to your widget are highlighted in the list and on the widget card. You can associate other tags and create new ones before associating them. To validate your choices, click on the "Save" button.
Duplicate
You can duplicate an existing widget. This saves you time if you want to create several similar widgets.
The "Duplicate" sidebar opens. To validate the creation of the new widget, click on the "Save" button. You will be able to find it in the Dashboard.
Activate / Deactivate
You will need to activate a widget to be able to use it in your campaigns.
The status of a widget is indicated on its card: white + "Activated" / grey + "Deactivated".
You can change this status through the 3 points menu.
Warning: If you deactivate a widget, you will no longer be able to use it in your campaigns.
Delete
You can delete an existing widget.
To validate the deletion of the widget, confirm your choice in the popin.