Quick start guide for personalization
3
min
quiz

This guide will help you in the configuration of your first personalization.
Kameleoon also provides you with precise and complete documentation that will allow you to perfect your practice: do not hesitate to consult it.
Ready to go? Follow the guide !
Installation of Kameleoon
Once your account is open, using Kameleoon requires the installation of our script on your website.
The installation is fast and easy but you need to access the source code of the HTML pages of your website to insert a custom JavaScript code. This script will not change regardless of the personalizations launched on your website.
We advise you to add the Kameleoon script right after opening the <head> tags of the HMTL pages.
Several types of installation are available. For futher information, you can read our detailed installation guide.
To know more about this step, do not hesitate to consult our dedicated documentation by clicking on the type of installation you chose.
Create a first personalization
To create your first personalization, you must log in to your personal space.
Create a segment
You will not be able to launch your personalization if you have not chosen a segment. It is therefore advisable to create your segment before creating your personalization.
For this, you need to access the Segment Builder from the back office. Use the left side menu to go to the Segments page.
To create a segment, click on "New segment".
You can also access the Segment Builder when you create or edit a personalization, by clicking "Add a new segment" in the "Exposed segment" section.
The segment creation pop-in opens.
Fill in the name and description of your segment. You can also specify a description and tags.
Select your conditions by dragging and dropping them in the dotted area on the right. When you have dragged and dropped a condition, the settings specific to that condition are displayed.
If you're having trouble with this step, you can read the detailed article on creating a segment.
Once your segment is defined, click on the "Validate" button to save it. It will be accessible from the list of your segments and you can select it when you create your personalization.
Configure personalization
To create your first personalization, go to the home page by clicking on the dashboard in the menu on the left.
Then click on the "New personalization" button.
A pop-in opens, allowing you to select your website if you have more than one, and to name your personalization.
The personalization creations page opens.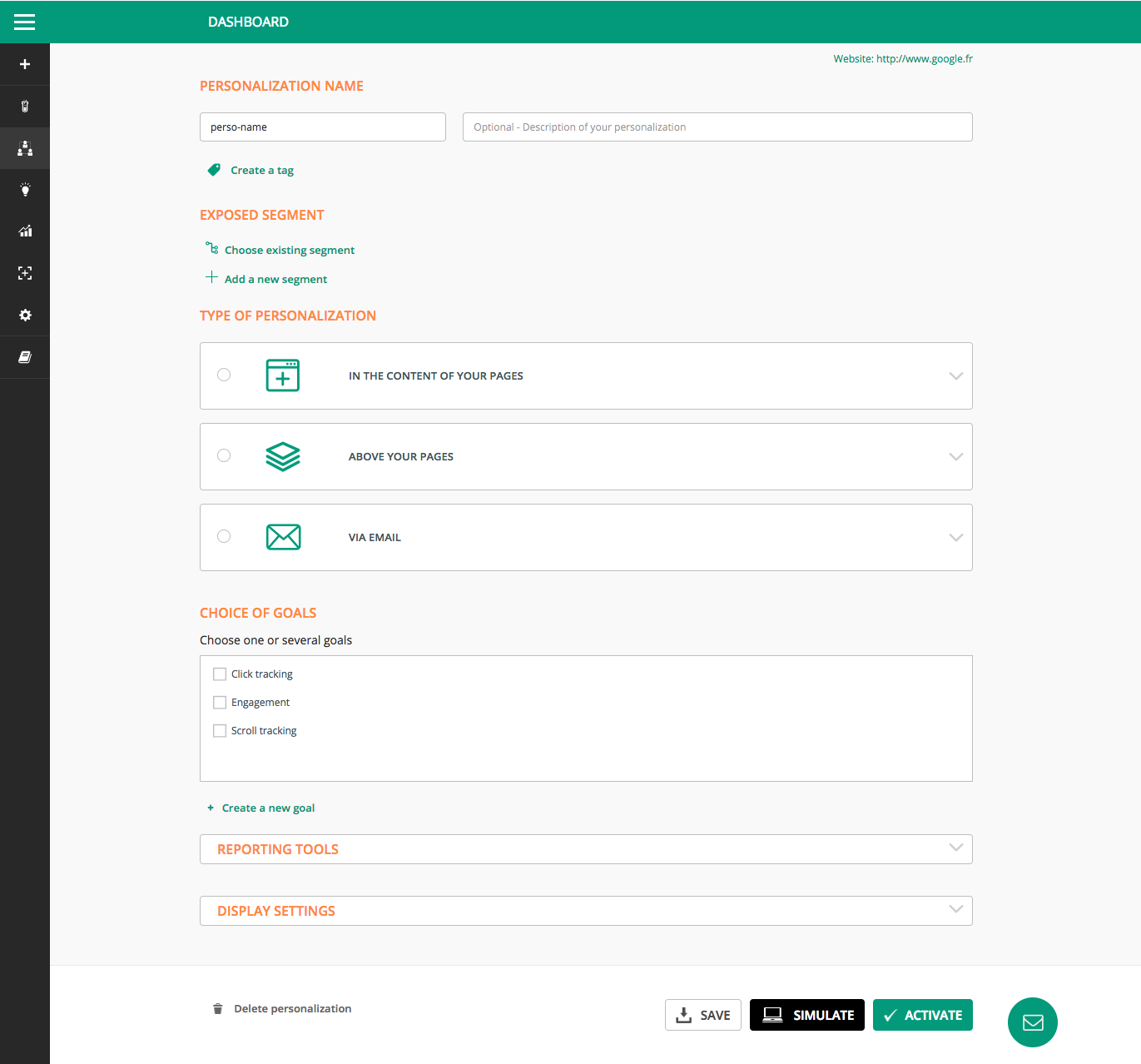 Fill in the different fields to create your personalization:
The website on which the personalization will be created. This is the website that you selected in the previous step.
The name you chose for your personalization appears here. You can change it at any time.
You can also specify the description of your personalization and assign tags: it is not mandatory, but strongly recommended to quickly find your personalization when you have created several.
You will find in this drop-down menu the segment or segments that you have created. If you have not created a segment, or want to apply personalization to a segment that has not yet been created, click "Add a new segment" to go to the segment creation page.
You can choose to display your personalization in the content of your page (replace an image, use a variation, add HTML code), over your pages (pop-in, sticky block) or via an e-mail.
Choose your goal(s) from the list of goals. If you select multiple goals, you will also need to specify which of the selected goals is your primary goal.
If no goal appears in the list, you have not set up goals yet. You can click on "Create a new goal" to create your first goal.
To learn more about setting up a goal in a personalization
The results of your personalization will be automatically uploaded in the Kameleoon tracking tool. You can also choose to read your results with another tracking tool.
To do this, simply select the tracking tool of your choice from the list. Note that to select a tracking tool for your personalization, you must first have it installed from your personal space.
To learn more about reporting tools
You can, if you wish, refine the criteria of your personalization thanks to the exposure parameters.
There are five criteria: capping, planning, micro-targeting, prioritization and scripting.
To learn more, you can read our article on Exposure Settings.
To publish your personalization online, click on the "Activate" button.
Simulation of a personalization
You can start a simulation of your personalization – whether it is already online or not.
To do this, simply click on the "Simulate" button located at the bottom of the page to create a personalization.The simulation opens in a new window. Several modes of simulation are available: for more information on these, you can consult our documentation on the simulation of a personalization.
Read and analyze the results
To read and analyze the results of your personalization, log in to your personal space. Locate the card that corresponds to your personalization (you can use the search bar).
Move your mouse over the map to display the different actions and click on "See the results".
The results of your personalization are displayed.