Password and personal information
3
min
quiz

You can update your password and personal information at any moment.
First, you need to be logged in to your personal space.
Once you are logged in, click on your name on the top of your screen. A drop-down menu appears, allowing you to click on "My account".
This page allows you to update your name, first name, e-mail address and password. Just click on "Edit".
Updating your information
To change your name, first name or e-mail address, simply type in directly in the fields you want to change.
Then, click on the "Edit" button to save your changes.
Changing your password
To change your password, click on "Edit my password" at the bottom of the pop-in.
Type in your current password, then choose your new password. It must contain at least 8 characters, including a lower case, an upper case and a figure. It mustn't contain your first, last or company name.
Click on the "Save" button to save your changes.
Note : Enhanced security options can be activated by your CSM. You can limit the number of incorrect password attempts or set up an SSO based on the SAML 2.0 standard.
Automatic generation of new passwords
This option enables you to improve an account's security level. By activating it, you will be asked to regenerate your password. This regeneration applies to all users associated with the account: they will receive a message asking them to change their password. You can schedule this change periodically or punctually.
To access the option, pull down the menu at the top right of your personal space which mentions your name and click on "Parameters".
Then click on "Password regeneration".
A pop-in opens. Switch the button on "YES" to activate the automatic regeneration, and choose its frequency.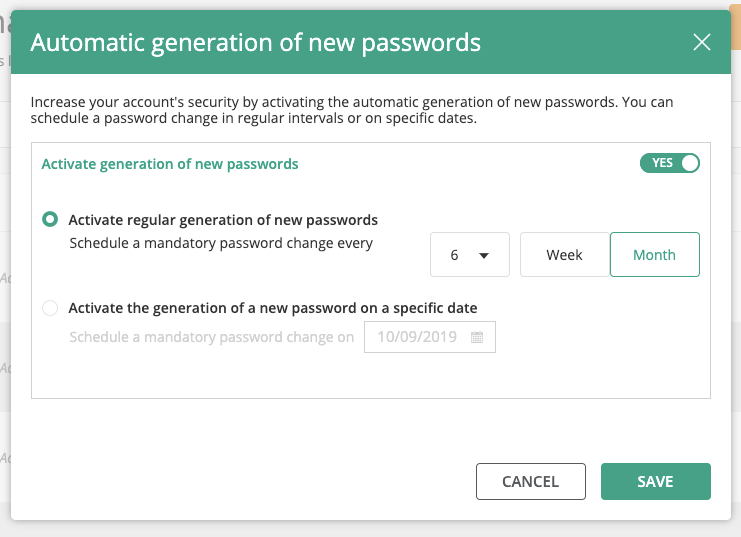 Do not forget to save your choice!
 You don't have access to this option? This is due to your user rights.