Simulation mode allows you to check if:
Your variations or personalizations are displayed correctly;

The targeting of your experience is configured correctly, and if not, understand why;

The goals you have defined convert or not;

Your different visitors see the right content for them at the right time.
Simulate a test and preview it are two different actions. To learn more about the preview, you can read our article on the subject.
Opening the simulation panel
Kameleoon offers the possibility to test your variations and/or your targeting options before launching an A/B test. On the graphic editor, just click on the 4th step of the right panel.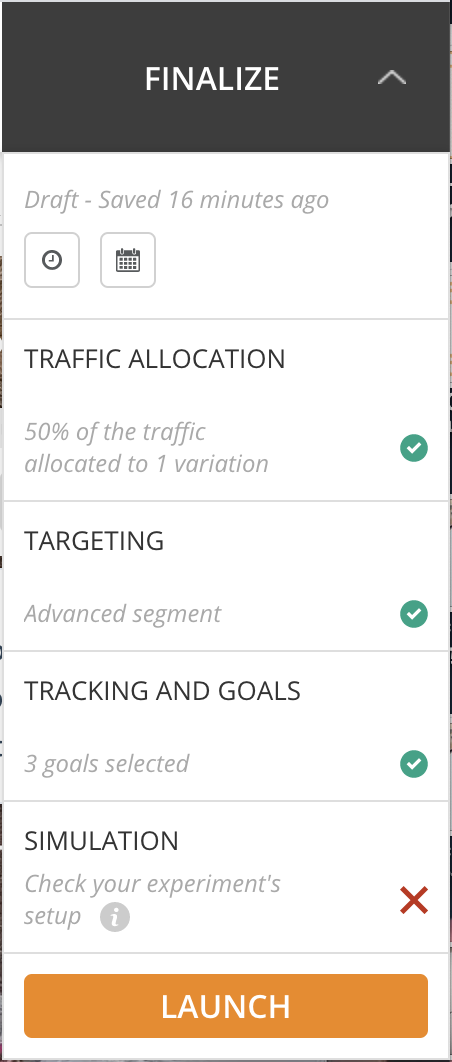 Kameleoon opens a new page in your browser and a panel is displayed at the bottom of the page, giving you access to a number of options.
At any time, you can click on the "Hide" button to collapse the bottom part of the window and make room for your simulated web page. To unroll it again, click on "Show".
Structure of the simulation panel
The simulation panel is divided into 5 areas:
The area on the right
The simulation step is highly recommended but optional. It does not prevent you from launching a test.
Once the simulation mode has been activated, whatever the results of this simulation, the step is validated in the finalization panel.
If you modify an element of your test (whether it is already online or a draft) after having simulated it, the icon turns red again and it is recommended to launch a new simulation.
Simulation mode and mobile phone
It is possible to launch a simulation to check the settings of a mobile phone experiment. To do this, you can use a Chrome extension (like this one for example) to load a mobile view of your website. Then start the simulation mode as usual.
3
min
quiz
Simulation mode allows you to check if: Your variations or personalizations are displayed correctly; The targeting of your experience is…