From the editor
You can manage your A/B tests with the Kameleoon editor. For that, once the editor launched, click on the menu 
 located at the top left of the Kameleoon header, then click on "Open other tests".
The test management window opens, giving you access to the list of tests you have created. This is where you can perform basic operations on your tests, such as renaming, duplicating or deleting them. You can also create, stop or pause a test.
Use the search bar to find a test.
It is possible to filter or sort the tests. The available filters are: status (online, draft, paused, stopped, deviated or planned); the tag(s) associated with a test; the last edition date.
The sort option proposes to classify your tests by edition date, creation date or name (in ascending or descending order).
Click on the name of a test to display the block on the right containing the main information on it. Use the icons under the title of the test and its status to duplicate
or delete
the test. You can also start, stop or pause the test by clicking on the arrow to the right of the status: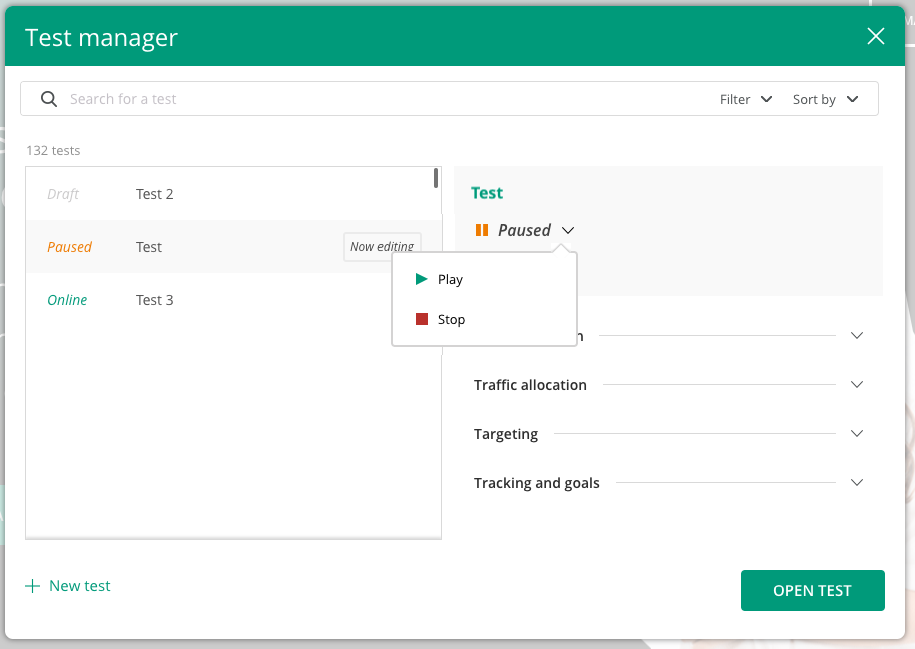 This action is only possible after the test has been planned or launched.
From your personal space
You can also manage your tests from your personal space. To do this, log on to http://back-office.kameleoon.com and go to the "A/B test" deshboard, using the home page or left side menu.
At the top of the page, key figures tell you how many tests have been launched and how many tests are currently online.
All your launched tests appear on this page, regardless of their status. You can filter this view if you want to display only the tests of a certain site or the tests of a certain status. You can also choose to filter the display based on the tags assigned to the tests.
For each test, you will see at a glance the improvement of the conversion rate, the winning variation and the status of the test.
Move your mouse over a test to access the available actions.
Click "View Results" to load the results page of this test. The buttons at the bottom right allow you to edit your test (by opening the editor) or to duplicate it. Tap the "•••" icon to see other actions that will allow you to delete or pause the test.
If it is a code-based test, you can open it directly in the code editor by clicking on the </> icon.
Simplified view
You have created a lot of A/B tests and the loading of data slows down the display of your Dashboard?
You can choose a simplified view of your Dashboard. Without KPIs, the Dashboard loads much faster and you save valuable time. You can find your KPIs directly on the results pages.
(To activate this option, please contact your Customer Success Manager.)
3
min
quiz
From the editor You can manage your A/B tests with the Kameleoon editor. For that, once the editor launched, click on…